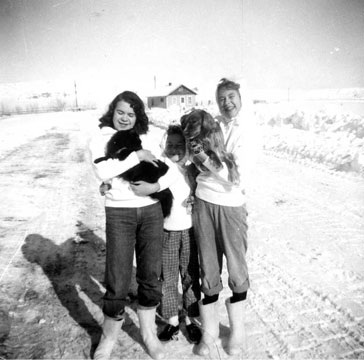 Do you believe in angels?
By Cynthia Mulvaney
Do you believe in angels? I believe beautiful angels with feathered wings guide and protect us, but I'm asking you about the kind that live among us. This year, over 800 students in the Helena School District have received new coats, hats, boots, clothes, shoes, and school supplies. They would agree that angels exist. The Angel Fund has been buying children in need new clothes for the past 22 years.
It all started in 1989 when my sister, Marcia K. Wall, was a school counselor at Helena Middle School. It wasn't called the Angel Fund then, but Marcia was busy making sure kids had money for field trips, buying a badly needed pair of gym shoes or a warm coat. In 1998, The Angel Fund, named after our Grandmother, began serving children in all 17 schools in the Helena School District. In 2001, our budget was $15,300. It seemed like a lot of money then. This year our budget has allowed us to spend $98,000 to help over 800 students. In the past ten years our contributors made it possible for The Angel Fund to spend $526,000 in our local stores! The Angel Fund also awards scholarships to students attending Montana colleges based on financial need, academic success and a commitment to give back to their community. We believe hard work and a good education is the key to success and the road out of poverty. One scholarship recipient wrote, "The last few years have been pretty difficult for reasons I won't go into, but this scholarship was the start of things looking up! So from the bottom of my heart, I thank you and hope to make you proud."
It's November, the perfect month to thank all of you who have contributed to the Angel Fund through your United Way donations, memorials to loved ones, and personal donations. We can't forget to thank all the businesses and churches who collected school supplies during the summer and helped Stuff the Bus. The Angel Fund couldn't operate without the dear people who believe in our cause. We have a six member Board of Directors and an Angel Coordinator in every school. The coordinator is a teacher, nurse, counselor, social service coordinator or a secretary that volunteers their time to make this program succeed.
Wondering how this all really started? Growing up, my sister, Connie, was the guardian angel watching over her younger sisters while our mother worked two jobs to support us. Marcia guided over me giving me fashion and makeup advice. When I was in high school, Marcia was working her way through college. It was then the Angel Fund really started. I needed new clothes and Marcia took me shopping and paid for them. I know how those kids today feel when they walk into their school with nice new clothes on. And now she can't quit. If there's a kid in Helena who needs a new pair of shoes or a warm coat my sister will make sure he or she gets it. I'm still her kid sister doing whatever she tells me to do for The Angel Fund.
I believe in angels. I know I have angels in my family. I believe in all the angels that give money so we can help kids. Kids like us. How can you help? Please consider a donation so The Angel Fund keeps putting smiles on faces. Our address is: The Angel Fund, P.O. Box 7436, Helena, Montana 59604 or visit http://www.angelfundhelena.org/. Thank you and have a wonderful holiday season!
Cynthia Mulvaney spent 27 years teaching elementary school in the Helena School District before retiring in 2009 (published in the Helena Independent Record, Your Turn, Tuesday, November 22, 2011).